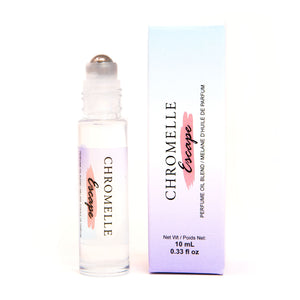 Chromelle
Chromelle Escape Perfume Oil
Sale price Price $29.00 Regular price Unit price / per
Chromelle Escape Perfume Oil
*Our most gentle Chromelle Scent!
You deserve an Escape! As relaxing as a vacation, or a trip to the spa; Escape is so good for your soul. A soft and subtle aroma that evokes warmth and comfort.  At first glance, it smells cheery with a hint of adventure.  Soon it delicately blooms via the warmth of your skin, revealing softer, warmer and more sensual nuances.  Compelling notes are a musky sweetness, a touch of woodsy allure, with a hint of velvety softness that completely transports you.  It is not always possible to travel; but you can always take a trip, with Chromelle Escape
A soft and fresh, White Musk aroma.
Premium Perfume Oil Blend
Skin Friendly - Jojoba Oil Based
High Quality, Long Lasting
10mL Sturdy Glass Container
Smooth Glide Roller Ball
Perfectly Fits Your Active Lifestyle.
Store in a warm environment for best results (room temperature or above).
Customer Reviews
I recommend this product
Current FAV!
Something about this, I just love it so much!!
I recommend this product
Subtle Scent
When you put it on, its different than your normal cloud of perfume, it starts small, and builds through the day. But very pleasant.
Absolutely! It's like a "6ft perfume". People in your bubble will smell and love it, but its not for the grouchy guy at the other side of the gym.
08/07/2021
Justina

Canada
I recommend this product
Do it!
Relax, take some time for yourself and feel pretty, just for you!
I recommend this product
Refreshing
Simple and soft. Refreshing! ALso cruelty free is a bonus!
I recommend this product
White Musk
This is a very subtle White musk scent. It's not blasty. If you want an 'in your face scent' don't get this.
Thank you for your review, Yes absolutely, it's a lovely soft, warm white musk also goes great paired with Innocence.